With AirDroid Cast, you can cast the devices' screens and cast the device's microphone sound. What's more, you can also cast the microphone sound of the computer to the mobile device, which means you can use AirDroid Cast to communicate between mobile devices and computers.
How to cast the device's internal audio and microphone sound by using AirDroid Cast?
Casting the device's screen to the computer first (steps to cast Android devices/steps to cast iOS devices)
After that, you will see some audio and microphone options on the screen. Turn on the related options then you will be able to cast the internal audio and microphone sounds.
Here are the instructions on the media sound & Microphone options
Mobile Device: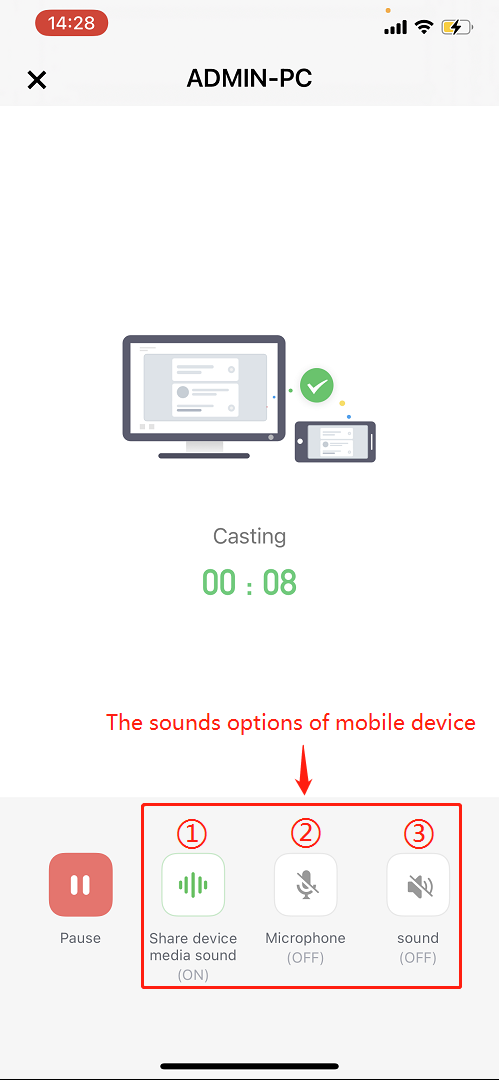 ① Share device media sound (Android before 10 doesn't available): The internal Audio of the device
>>ON: Sharing the internal audio of the device to the computer
>>OFF: Stop sharing the internal audio of the device to the computer
② Microphone: The microphone sounds of the mobile device
>>ON: Sharing the microphone sounds of the mobile device to the computer
>>OFF: Stopped sharing the microphone sounds of the mobile device to the computer
③ Sound: The microphone sounds of the computer
>>ON: Receiving the microphone sounds of the computer
>>OFF: Stop receiving the microphone sounds of the computer
Computer: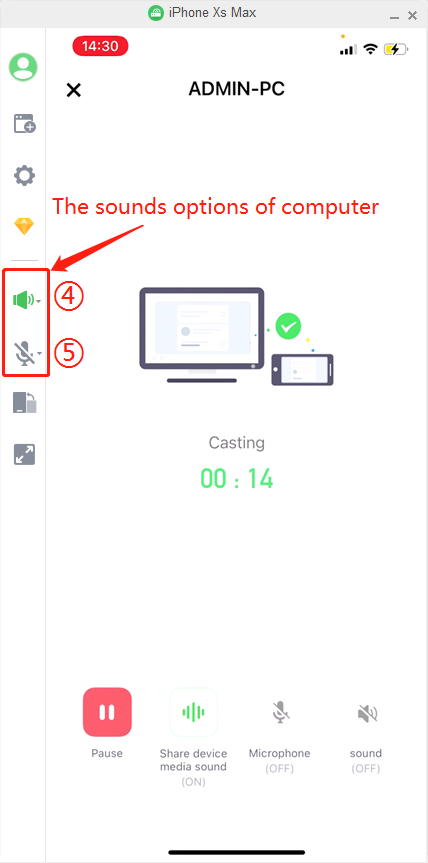 ④ Device Media Sound: The internal audio and microphone sound of the mobile devices
>>Listen to this device: Receive the internal audio and microphone sound of this mobile device
>>Listen to all devices: Receive the internal audio and microphone sound of all mobile devices
>>Silence this device: Stop receiving the internal audio and microphone sound of this mobile device
>>Silence all devices: Stop receiving the internal audio and microphone sound of all mobile devices
⑤ Microphone: The microphone sounds of the computer
>>Mute me from this device: Stop sharing the microphone sounds of the computer to this mobile device
>>Mute me from all devices: Stop sharing the microphone sounds of the computer to all mobile device
>>Unmute me from this device: Sharing the microphone sounds of the computer to this mobile device
>>Unmute me from all devices: Sharing the microphone sounds of the computer to all mobile device