What is AirDroid Business Admin Console?
AirDroid Business Admin Console is a cloud-based centralized dashboard that works as a mobile device management control center. It lets you remotely access, manage, and monitor all your attended and unattended Android devices in one place.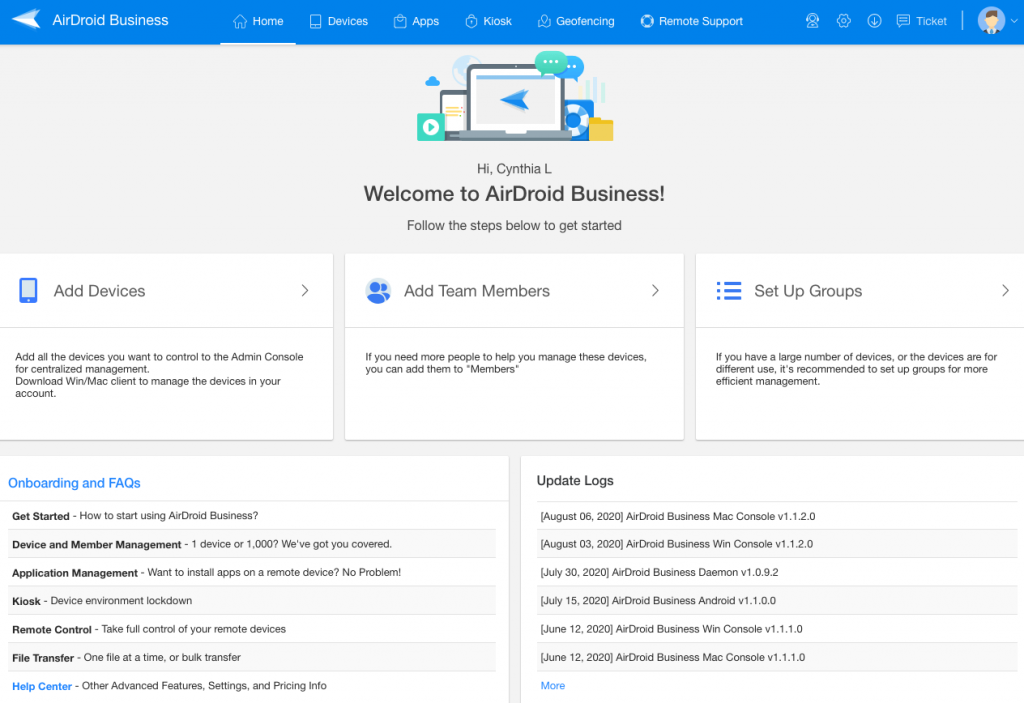 The Basics
1. Adding Devices
When you click on the "Add Device" tab, you'll immediately be redirected to your Device Wall. If you've already enrolled your devices, you'll see all your enrolled devices listed on the device wall. If you haven't enrolled your devices, you can complete the enrollment through three different ways: Deployment Mode, QR Code, and Bind Bulk Devices. For further details, please visit: How to add devices? Installation, Setup & Binding for AirDroid Business
2. Adding Team Members
Do you need more people to help you manage your remote devices? You can achieve this and improve business productivity by adding team members and assigning them to specific device accessibility. You can also modify the role and permission for your team members, to ensure they will not misuse the functions.
3. Setting up Groups
We know that managing a fleet of devices is no easy feat. If you have many devices to monitor or your devices serve various business goals, you can always group your devices together.
By setting up groups for your manned and unmanned devices, you can easily monitor and manage device status, locations, and perform bulk actions more efficiently.
360-degree monitoring of your device inventory
Proactive remote monitoring
Device screens - capture the latest screenshot to see if there's any black screen
Device health - shows you general indicators like online/offline status, storage & battery capacity, temperature, and more.
Device network - lets you monitor network signal strength, data usage, and distribution of connection types.
Device details - a list of all your devices with custom columns of information. You can sort and filter the information you want to see in the list view.
Device map - shows the locations of your devices on a map.
Device camera views - if your devices have cameras on them and turned on, you can see the surroundings of your device dashboard.
Alerts
You can set custom alerts and receive notifications when your devices have abnormal activities. The triggers include:
Cellular data usage, online/offline status, battery capacity and temperature, storage capacity, device motion & movement, and more than 10 other triggers.
Over-the-air App Management (add-on)
Application Management Services (AMS) developed by AirDroid Business helps IT managers or SMB owners simplify the process of app updates, releases, and maintenance on remote devices. Companies can now schedule automatic app updates, staged rollouts, forced installation, and even customize their own app for branding purposes. When technical issues occur on certain unattended devices, IT support agents can use remote access and immediate app replacement to resolve the issues as fast as possible.
Read more: Download our guide for Application Management
Device lockdown with Kiosk Mode (add-on)
Kiosk Mode for AirDroid Business is a device lockdown function that allows business users to set specific apps and restrictions on their remote devices. For many companies that have deployed POS machines, digital signages or self-service kiosks out in the field, it is imperative to prevent customers from tempering the settings for security concerns. By activating Kiosk Mode on Android devices, companies can allow users to only have access to certain websites, apps or functions like wifi, BlueTooth, or browsing behavior. This helps provide additional protection to those unattended devices tremendously.
Read more: Download our guide for Kiosk Mode & Device Lockdown
Location tracking & geofencing (add-on)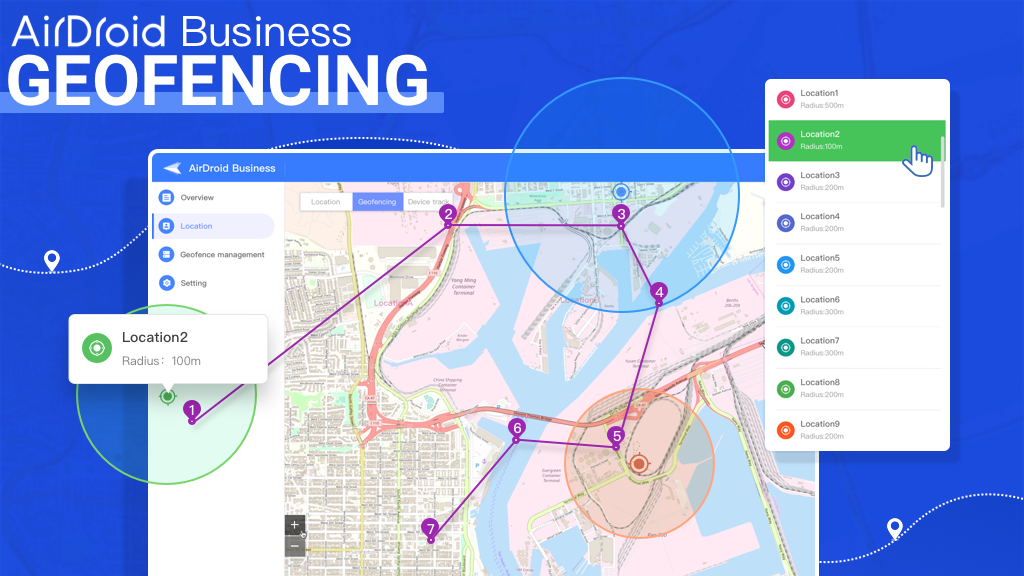 Geofencing is a location-based add-on service included in AirDroid Business MDM Software. This feature is most broadly applied in the logistics industry. Business owners can easily track a device's location and path history from Admin Console. Furthermore, they can set up digital fences to trigger workflows and notifications when a target enters or exits the geofence. In addition, detailed settings such as location sync frequency or recording frequency and even device groups can be set up if your business needs to have more comprehensive control over your devices
Read more: Download our guide for location tracking & geofencing
Remote Access & Remote Control
AirDroid Business offers flexible remote access and control for Android devices from desktops. IT admins can troubleshoot any Android device in the field, reducing device downtime and saving costs. It's particularly useful for unattended devices like digital signages, vending machines, self-serve kiosks, or any other device type since there's no manual intervention or help needed.
Read more about steps to set up remote access in AirDroid Business.
AirDroid Remote Support
AirDroid Remote Support is a 1-to-1 remote assistance solution designed for IT managers and customer service teams. Different from remote access, which doesn't require anyone on the device end to allow for remote control, Remote Support is built with privacy and security in mind. Every support session or attempt to connect to the device requires confirmation from the user. AirDroid Remote Support provides the following solutions for remote assistance:
Real-time screen sharing & VoIP calling
Tutorial gestures, note & markup (on screenshot)
Remote camera with AR
Remote control (during screen sharing upon user consent)
Read more: Download our guide for AirDroid Remote Support