If you are reiving the following error while opening AirDroid Cast on your macOS computer:
"AirDroid Cast.app" can't be opened because Apple cannot check it for malicious software.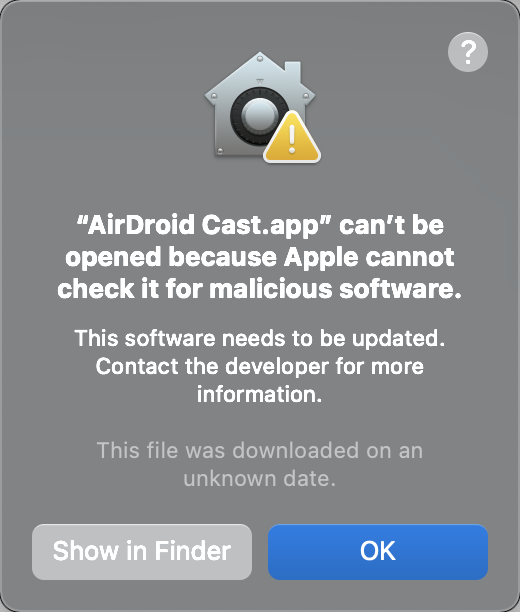 Please try the following steps to solve this issue:
Go to macOS System Preferences

Click on Security & Privacy > General
Under Allow apps to be downloaded from, select Anywhere.
NOTE:
Before macOS Sierra, it was much easier to set your Mac to allow you to download apps from anywhere.
Since new updates to macOS, however, you'll need to change a few more settings on your Mac in order to do so. Here's how:
Launch Terminal by going to Finder > Applications > Utilities or by locating it with Spotlight search ([CMD] + [SPACE]).
In Terminal, type the code sudo spctl --master-disable

and hit Return. Enter your Mac's password when prompted.
Go to System Preferences > Security & Privacy > General. At the bottom of the window, you'll see multiple options under Allow apps to be downloaded from. Select Anywhere to allow your Mac to download any and all apps.