AirDroid Cast Web Client now debuted a new feature that allows you to mirror the screen from one computer (Windows & Mac) to another, even if computers are far away from each other (placed in different places). * Before remote casting, make sure you have upgraded to AirDroid Cast premium.
It also supports:
Device Media Sound and Microphone sound transmission.
Start to Use
Open AirDroid Cast Web Client (webcast.airdroid.com) in the browser of the two computers. (now only supports Chrome and Edge).
Casting client(sharing computer): click the QR code icon on the upper right corner. Enter the cast code showing in the receiving client.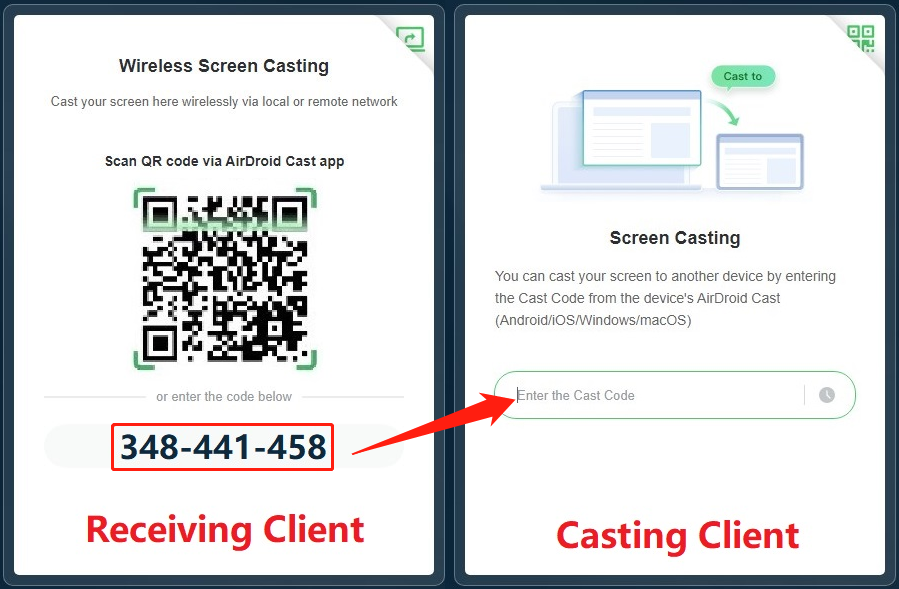 You can click on the

Clock

icon to connect history computers.
Step 2:
First-Time Casting
Accept the request of casting on the Computer
A request for the casting window "Allow the device XXX to cast its screen on this computer?" will pop up on your computer. Please click Allow to accept the request. (If you don't want to receive the request every time, you can check the option "Trust this device and never ask me again")
Or, it will count down to "0" and Refuse to connect.
Casting Client: choose what you want to share then you can start casting!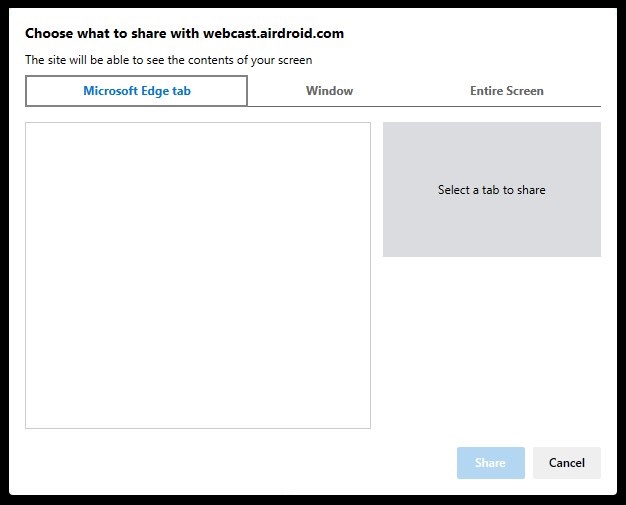 Step 3: When Casting is Successful
Receiving Client:
Collapse function bar

Rotate screen

Turn on/off sound

Turn on/off the microphone

Fullscreen

Disconnect
Casting Client: click "Stop sharing" then you can disconnect

Note:
If you want to receive multiple computer/mobile device screens, please use AirDroid Cast Desktop Client.
AirDroid Cast Desktop Client can (all features for AirDroid Cast premium users):
Receiving 5 different castings from 5 hosts
Control Android and iOS device, Android devices support remote control
Relevant Articles:
How to receive screens of multiple devices in AirDroid Cast Desktop Client?
How to control iPhone from PC via AirDroid Cast?
How to control Android device from Windows/macOS via AirDroid Cast Desktop Client?
What the different between AirDroid Cast Premium & Free account?