AirDroid Business is a total solution tailored for businesses and professional IT staff. The service including: support remotely, unattended Android devices management and accessibility. Providing enterprises with efficient, safe and convenient solutions to success.
First, you will need to install AirDroid Business Daemon via on all the Android devices (host devices) you want to manage.
After done so, proceed to set up your console following the steps below:
1. Visit my.airdroid.com, click Sign in to AirDroid Business, and then sign in using the AirDroid account you used to apply for AirDroid Business. Once signed in, you'll be able to add devices to your business. You can also invite your colleagues as a team member or admin to help you manage the devices.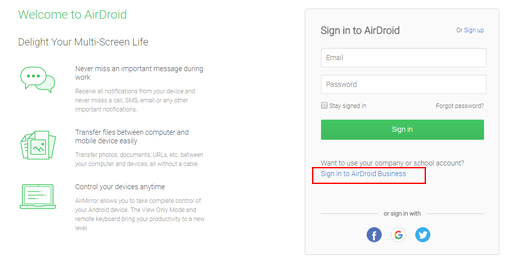 1.1 Add host devices (Please make sure AirDroid Business Daemon has successfully installed on the host devices)
1.2 Add team members
1.3 Setup groups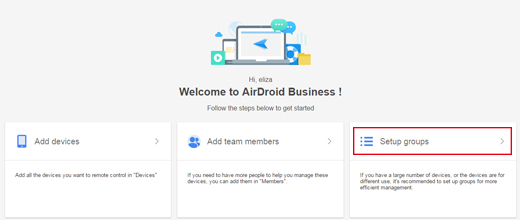 Once you are satisfied with the initial setting of your console, time to move down to your desktops for setting up your viewer clients
2. Install and sign in to AirDroid Business desktop clients (viewer clients) on all the computers you need to remotely access devices from following the steps below.
2.1 Go to your desktop that you want to manage your host devices from and go to my.airdroid.com, log in to download AirDroid Business Desktop via Admin console by clicking the button on the upper right.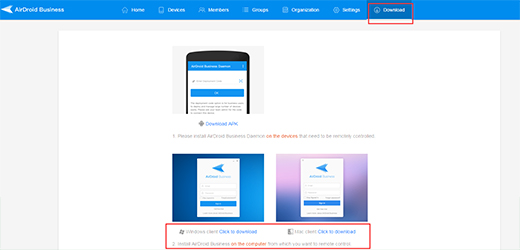 2.2 Open AirDroid Business Desktop, and enter your account & password to login.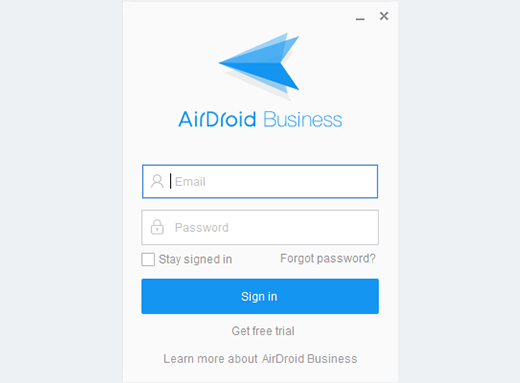 2.3 Select the host device(s) you want to control.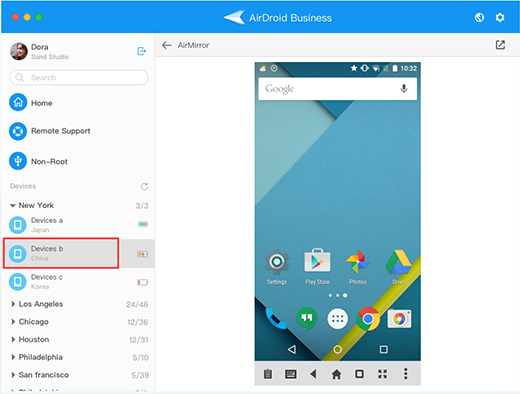 Once logged in, you will be able to see all the host devices on the screen and you only need to click on the devices to start file transferring, remote monitoring and more!