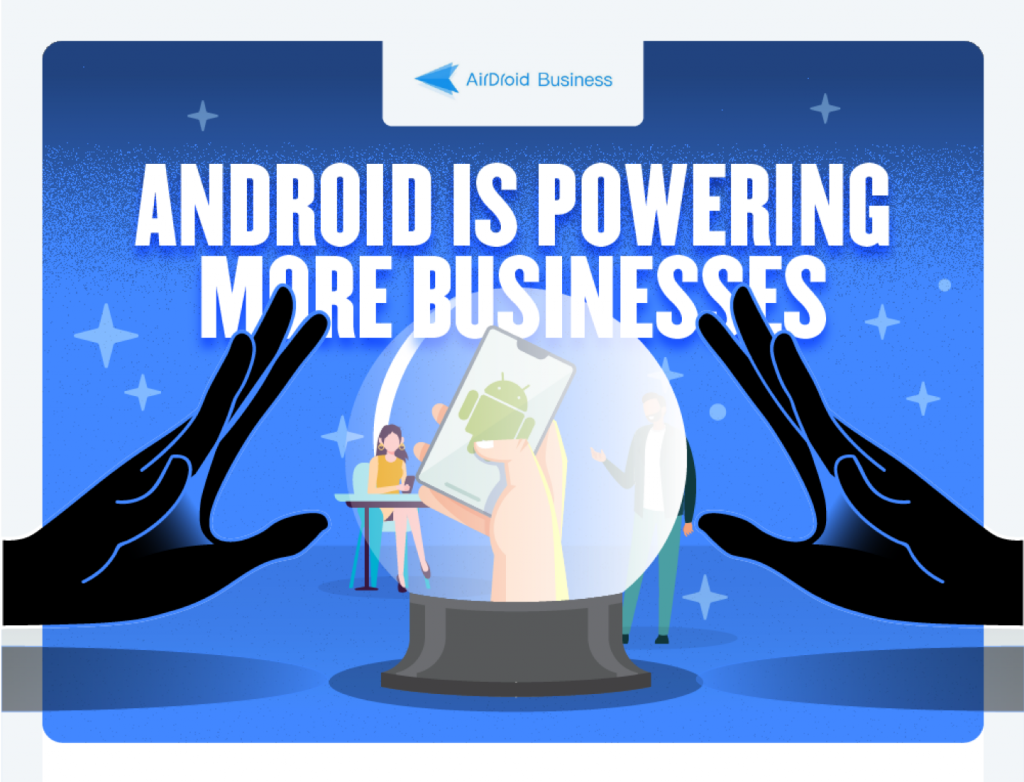 AirDroid Business is a total solution tailored for businesses and professional IT staff. With it, companies can provide instant responses to meet internal and external demands. Remote Control, for instance, helps companies answer service issues by accessing customers' Android devices even if it's located halfway across the globe. There are no more waiting for Field Engineers to arrive on-site to resolve issues and thus mitigating problems incurred by unwanted tampering. The bottom line is that customers want issues resolved now, and AirDroid Business is the tool built just for that!
Major features of AirDroid Business
AMS
Application Management Service (AMS) is a function of AirDroid Business that simplifies the process of application updates, releases, and maintenance on remote devices. AMS can Force Install applications or create a customizable bank of applications for easy access called App Library. Companies can decide which apps to go in the App Library and which devices to deploy with just a few mouse clicks.
Batch Mode
Batch Mode can dramatically improve work efficiency. It allows enterprise staff to rename, group, and input remarks for a variety of devices at a time. You can also send and delete files on multiple devices through the AirDroid Business Desktop client.
Dashboard for Monitoring Remote Devices
Batch monitor all remote device status. IT professionals can quickly view a diagnosis on memory, CPU and other hardware issues. With the option to select which criteria to monitor, users can see the information that is important for the business.
Geofencing (New!)
A solution that helps you set up a digital perimeter and view the current location of a device and track where it's been. Together with the GeoFence and Path Tracking, a WorkFlow can notify the Administrator of when a device breaches the GeoFence and also trigger a responsive action such as locking down the device.
Kiosk
Kiosk Mode for AirDroid Business is a lockdown function that allows you to set specific apps and restrictions on your remote devices. In an open environment such as a demonstration device or a closed system POS application, Kiosk Mode ensures that the users cannot use the device for anything else. With Kiosk, users are allowed to access only specific apps or functions, providing additional protection to your devices.
View Device Location
Locate remote devices and online status quickly. A GPS function that helps admin or team members keep track of device locations and status. Provide useful location data for your business.
Multiple Groups
For any enterprise, building a centralized control system for staff to manage and set up devices in a variety of scenarios according to groups is essential.
Multiple Roles
With the option to set Multiple Roles, AirDroid Business helps enterprises meet the requirement for assigning staff members different permissions. The owner of the account can set Admin, Team Member, or Viewer, to help manage device resources.
Owner

The owner of the AirDroid Business account can manage and control all devices by default. The owner can adjust the settings of the Admin Console, subscribe, and upgrade the business plan. Furthermore, the owner can add devices, manage team members, create groups and set group permissions, etc.
Admin
The admin can manage and control all devices by default, just like the owner. However, an Admin cannot access the settings and payment page of the Admin Console.
Team Member

Team members can manage only the devices
delegated to them
with selected functions.
Viewer
The Viewer is a role often assigned to a company client who wants to monitor a device without the fuss of learning all the controls. The viewer can access devices in a specified time frame, using Remote Camera and View Only Mode.
Remote Control
A great tool for technical support, Remote Control allows users to take control of remote devices with a variety of functions such as screen capture, camera controls, file transfer, and remote gestures. These functions put together, and you have an all-in-one solution to answer any and all device-related issues or tasks. The possibility of what you can do are endless.
Two- way File Transfer
Two-way File Transfer allows you to send and obtain files from remote devices securely in real-time. It is the must-have tool for IT professionals to update systems, troubleshoot issues, and manage files on remote machines.
Try AirDroid Business For Free
We'll send you everything you need to get started immediately and enhance your team's productivity.