According to the background restrictions of Google in Android 8.0+, when you are running AirDroid Personal in the background, a static notification named "AirDroid service is running" will show on the Status Bar.
Although you might find the notification a bother, it does serve a purpose. Without the notification, you will lose the connection with your computer and can't wake up the AirDroid Personal service remotely from your computer.
If you want to turn the notification off and kill AirDroid Personal service from the background. Let's see how.
Go to Status Bar.
Tap the arrow on the notification or long tap the notification.
Tap Disabled to close the AirDroid Personal connection service.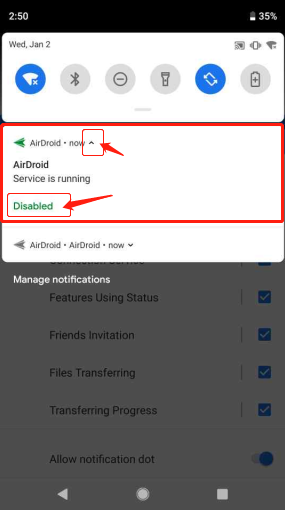 Note:
When you open the AirDroid Personal app again, the notification will be activated on Status Bar too. If you want to permanently turn off the connection service notification on the Status Bar, kindly check the step below.
Open up Settings and go to Apps & Notifications.
Find AirDroid and Tap Notifications.
Unchecked the option of Connection Service.