With the Screen Mirroring feature of the AirMirror App, you can mirror your phone's screen to your other phone.
How to use screen mirroring of AirMirror App?
Download and install the AirDroid Personal app on your phone A and sign in to your AirDroid Personal account
Download and install the AirMirror app on your phone B and sign in to the same AirDroid Personal account
Open the AirMirror app on phone B, then click phone A in the device menu of the AirMirror App.
Click Screen Mirroring to establish a connection.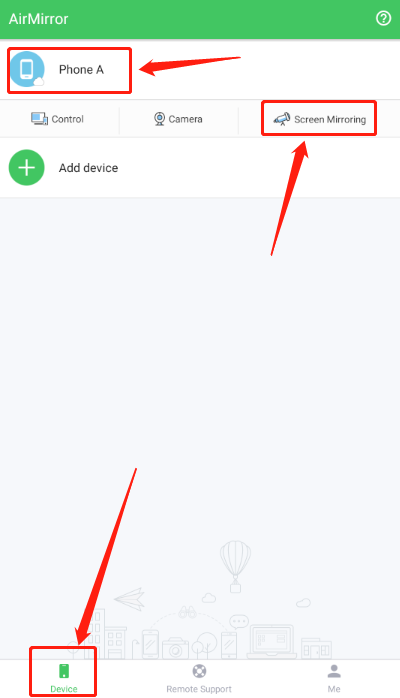 If you want to mirror your phone's screen to your computer, please check How to mirror the phone's screen to a computer with AirDroid Personal?
NOTE:
For the first time to use this feature, a pop-up window will show on your phone saying, "AirDroid will start capturing everything that's displayed on your screen". Please kindly check the option "Don't show again" and click START NOW. If you didn't get the pop-up window, please go to your phone settings to clear the cache: settings>>storage>>clear data and cache, then uninstall and reinstall AirDroid to see if it helps.

If you are using Xiaomi devices, you need to enable Start in the background on your phone (go Permissions > AirDroid > Start in background > click accept). Otherwise, you will not be able to use the screen mirroring while AirDroid Personal running in the background of your phone (check the details here).
Some special devices such as OPPO may lack the "Don't show again" option, which means you will get the window show every time.