With the popularity of the Internet, sharing life with photos anytime and anywhere has become daily life for many people. Begin with iOS 11 Beta, all the photos taken with iPhones will save in HEIC format in default. Since the HEIC format was introduced not a long time, many computers cannot open it. This brings trouble for people who use iPhones to take pictures.
What is the HEIC photo format? Why are my photos saved as HEIC?
HEIC is a default photo format of newer iPhones. HEIC takes less space and is more lossless compare to the JPG format. But the compatibility of HEIC is poorer. Except for macOS High Sierra(10.13), Windows10 RS4, or a newer computer, you can't open HEIC photos from the computer directly. You need to transform HEIC files to JPG or some other format compatible with your computer to open it.
How to Convert HEIC to JPG?
The most direct way to solve the troublesome is changing from the source — go to Settings of your iPhone - Camera - Format, choose Most Compatible option, all the photos taken later will save as JPG in default. It's the most direct way recommended with Apple with a big problem — it takes more space with lower resolution.
The best way to transfer HEIC images to the computer!
AirDroid doesn't have format and computer type restrictions. You can use AirDroid to transfer all kinds of files and images to any computer (Mac/ Windows/ Linux/ Chromebook). In addition, AirDroid will not compress images while moving, which can perfectly maintain the clarity of the images. It is an ideal app for transferring images!
Here are the steps:
1. Search and install AirDroid from App Store.
2. Open AirDroid - go to

, find and turn on the Auto-convert HEIC to JPG files when the receiver does not support HEIC option.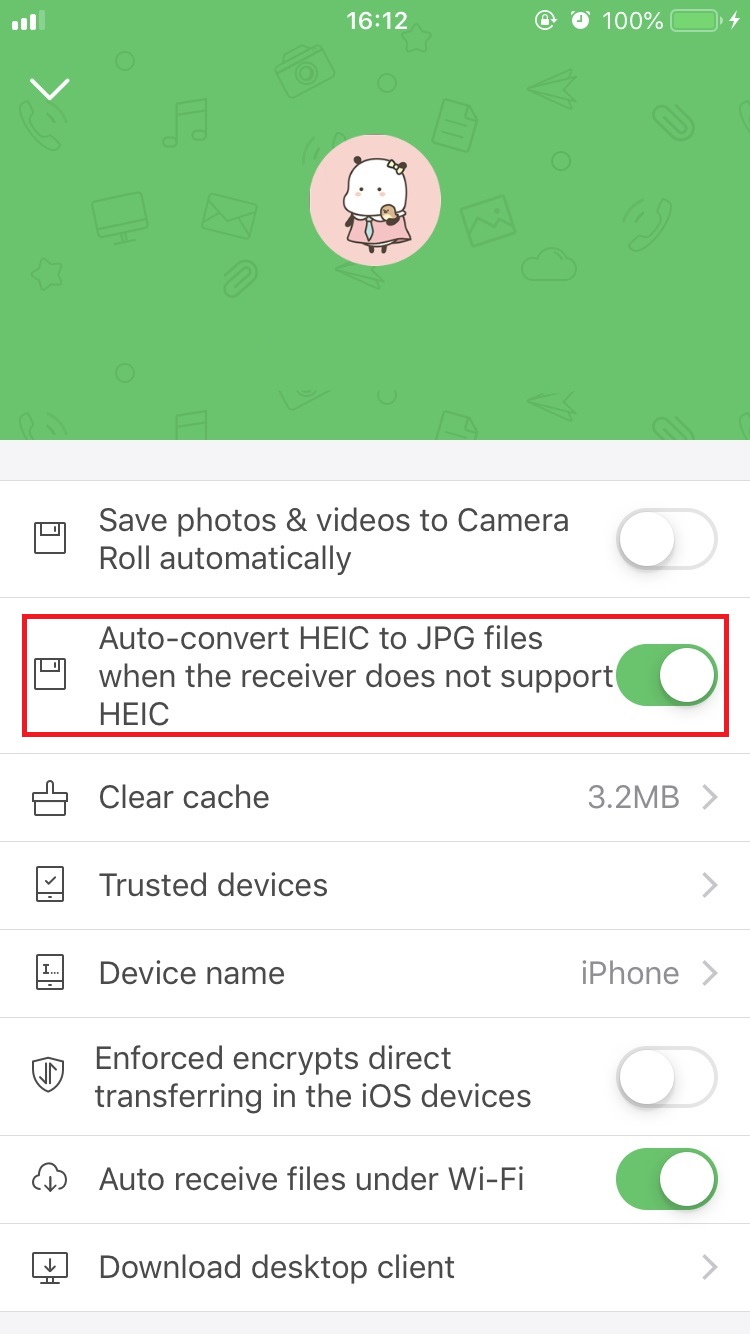 Now, when you use AirDroid to transfer HEIC images from iPhone to a computer, the HEIC images will be automatically converted into JPG format.
Below it's the article about how to use AirDroid to transfer files:
How to transfer files between mobile phone and computer with AirDroid Personal Desktop client?
Related Articles:
FAQ of AirDroid Personal File Transfer
How to Transfer Files with Friends Through AirDroid Friends Feature?
How to transfer files between mobile phone and computer with AirDroid Personal Desktop client?
What if the file download fails?