AirDroid Cast is a powerful and easy-to-use tool to cast your iOS and Android device to your Windows and macOS computer. Besides the screen mirroring, you can use the computer's keyboard and mouse to control Android and iOS devices too.
With this article, you will learn how to use AirDroid Cast to control Android devices from windows/macOS.
If you want to control iPhone or iPad from a computer, please refer to this article.
Step1: Download AirDroid Cast
*If you can't open AirDroid Cast on your macOS computer, check the solution here.
Step 2: Cast the Screen (WLAN & AirPlay & Cable)
You can use AirDroid Cast to cast your mobile device's screen to your computer in the following ways:
WLAN
In this way, you can use your phone's AirDroid Cast to scan the QR code or input the Cast Code, and your local or remote iOS or Android devices screen will cast to this computer. check out the cast steps below:
1. Initiate the cast request on the Android device
Open AirDroid Cast on your mobile device and computer, then initiate the cast request in the following two ways:
Cast by Cast code: Input the 9 Cast Code shown on your computer and tap START CASTING
Cast by QR code: Use your phone to scan the QR code shown on your computer

and the cast request will send automatically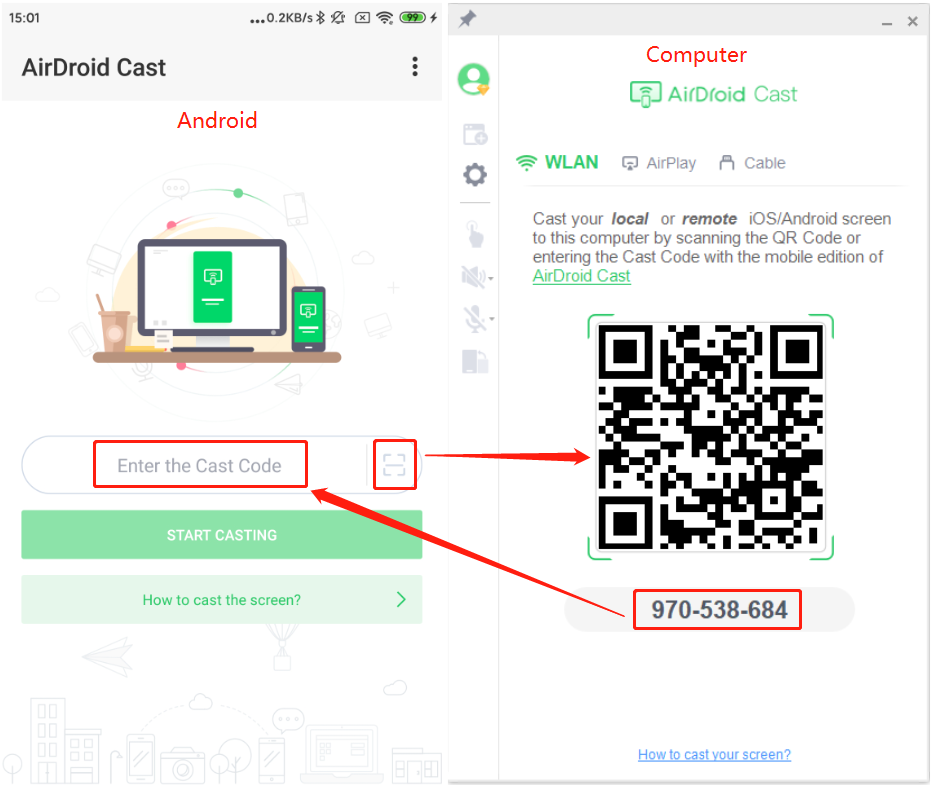 Notes For First Time Casting
For the first time to use AirDroid Cast, a pop-up window of Record audio permission will appear on your device, to make sure you can mirror the device's audio and the microphone's sound normally, please allow this permission for AirDroid Cast.
2. Accept the request of casting on the Computer
After tapping START CASTING on your phone, a request for casting window "Allow the device XXX to cast its screen on this computer?" will pop up on your computer, please click Allow to accept the request. (If you don't want to receive the request every time, you can check the option "Trust this device and never ask me again")

3. Enable Casting Permission on the Android device
After accepting the casting request from the computer, a casting permission page and window "AirDroid Cast will start capturing everything that's displayed on your screen" will pop up on your Android device, please tap ENABLE and Start now to enable the permission.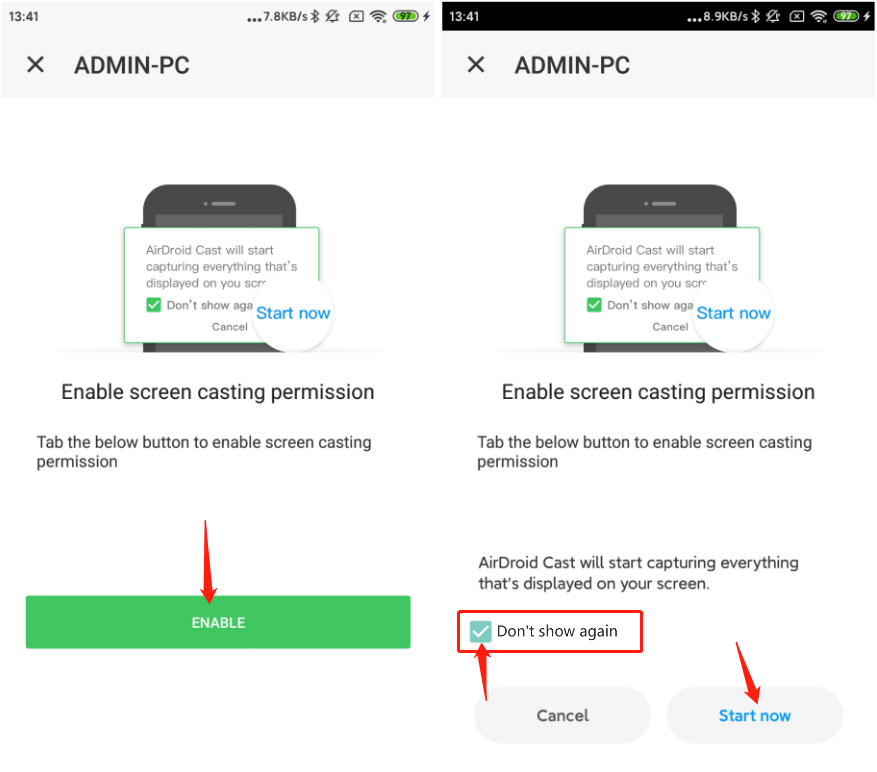 NOTE:
If you found there is an option "Don't show again" on the pop-up window, check it and you will not receive the permission window again.
If you couldn't find the option "Don't show again" on the pop-up window, it may because you are running Android 10 above OS or a custom OS. AirDroid as a developer is not allowed to design this permission window, you can check the details here.
4. Casting Successfully
After all the above steps are done, your Android device's screen should appear on your computer now.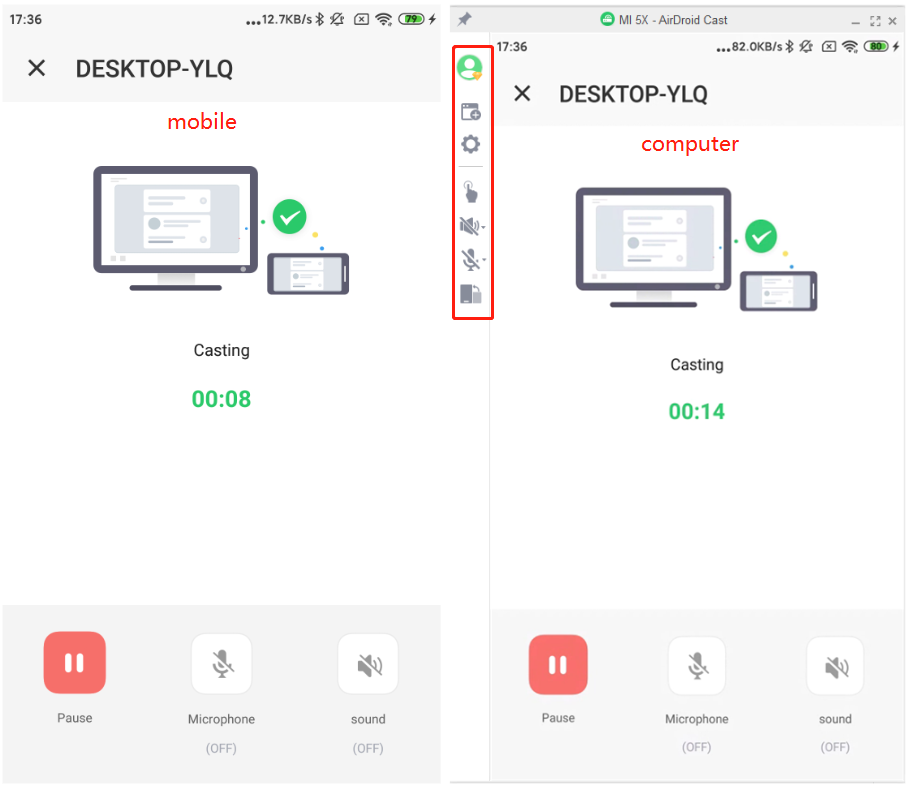 AirPlay
This feature only available on iOS and macOS devices.
USB Cable
In this way, you will able to use a USB cable to cast the screen of your mobile device to a computer.
Developing, coming soon!
Step 3: Control Your Android Device
System and App Version Requirements:
The Android device needs to run Android 7.0 or above
The AirDroid Cast App needs to be updated to v 1.0.4.0 or above


1. Initiate the Remote Control request on the computer
Once the Android Screen be cast successfully, you can find the Control icon on the left menu bar of AirDroid Cast on your Computer, just click it to Initiate the Remote Control request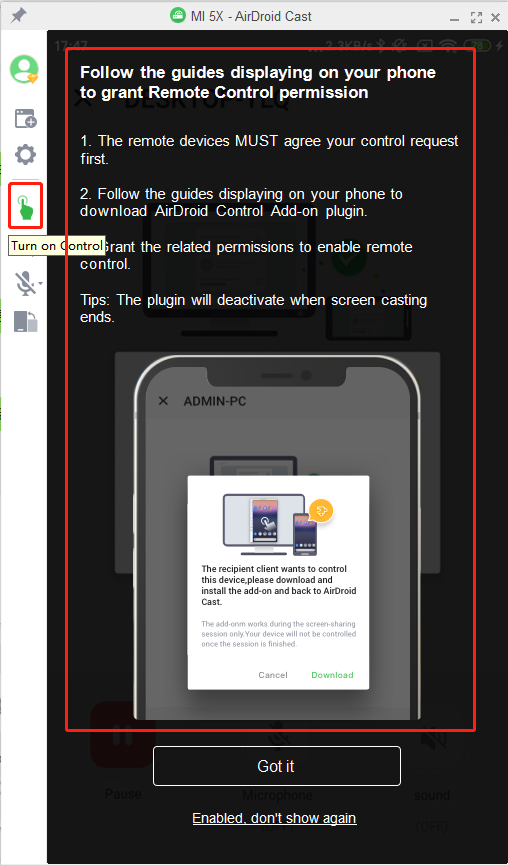 2. Accept the Control request on your Android Device
When you initiate the control request on your PC, a confirm window will display on your Android device, tap "ok" to accept the request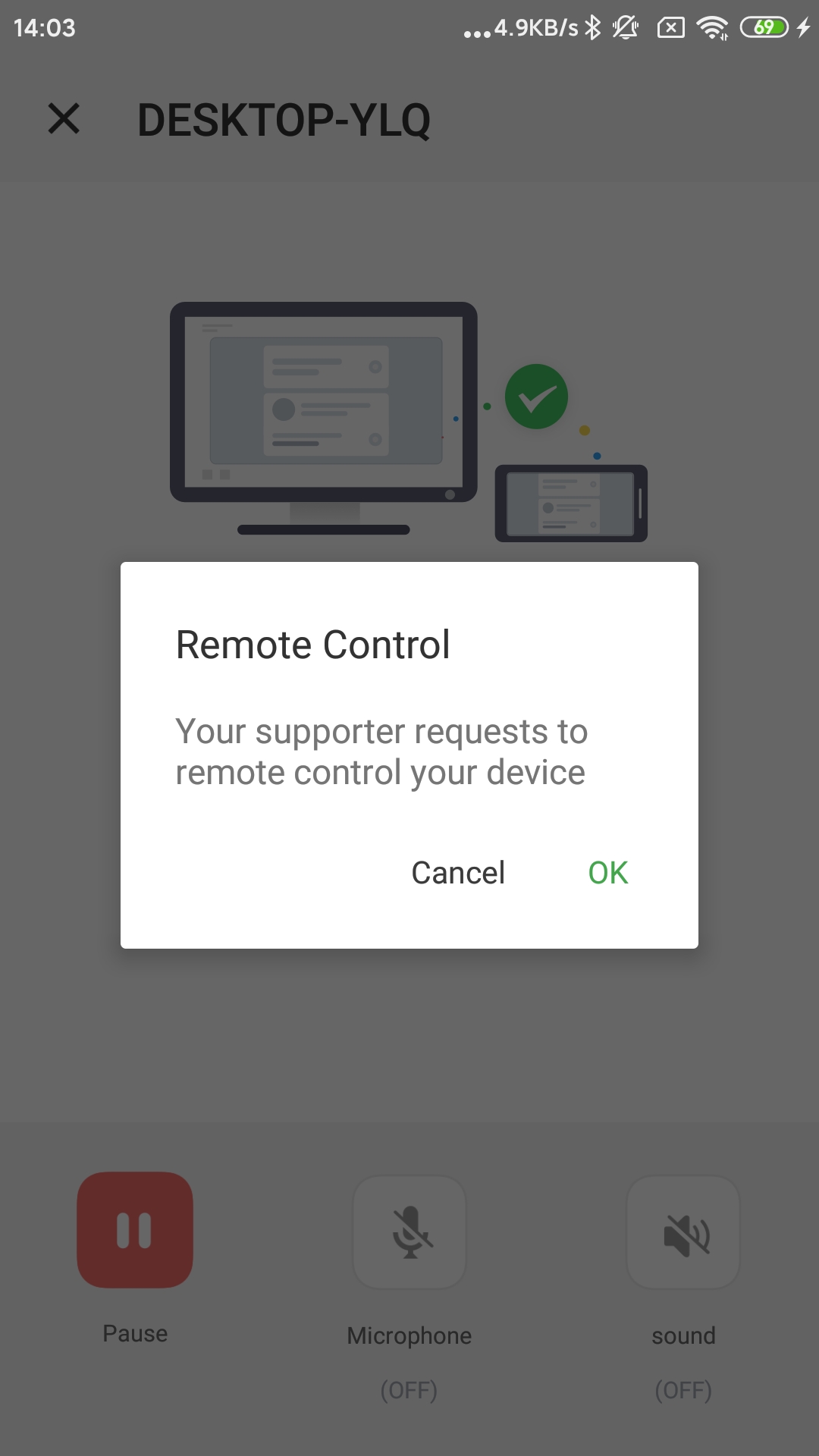 NOTE:
If you don't install and setup AirDroid Control Add-on on your Android device before, please follow the steps below to download and set up it:
3. After all the above steps completed, the quick control menu will display on your computer, which means the remote control feature has been enabled succeeded, and then you can use the AirDroid Cast on your computer to remote control your Android device