AirMirror App has the same Camera feature with AirDroid Personal Desktop client and AirDroid Personal Web client. it allows you to remote access your phone's camera from your other phone, even these two phones not under the same network.
Here are the steps:
Download and install the AirDroid Personal app on your phone A and sign in to your AirDroid Personal account
Download and install the AirMirror app on your phone B and sign in to the same AirDroid Personal account
Open AirMirror App on phone B, then click phone A in the device menu of AirMirror App
Click the Camera to establish a connection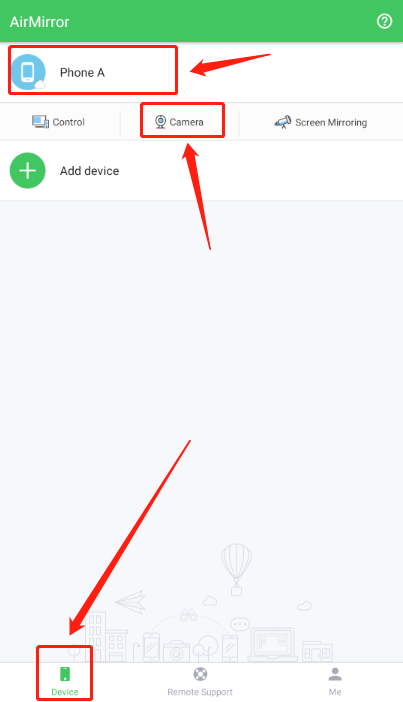 If you want to remote access your phone's camera from a computer, please check How to remote access phone's camera from a computer with AirDroid Personal?
Note:
During the process of establishing a remote camera connection and use, ensure that the AirDroid Personal app is running in the background of your phone A.
What features of AirMirror Camera have?
AirMirror Camera currently contains the following features:
Rotate screen
Switch front and rear camera
Switch flashing light