Besides transferring files with AirDroid Personal Win/Mac, you can also transfer them via AirDroid Personal Web without a USB cable.
Sign in to web.airdroid.com, find the Files icon, and click it. You can see all the files of your Android device: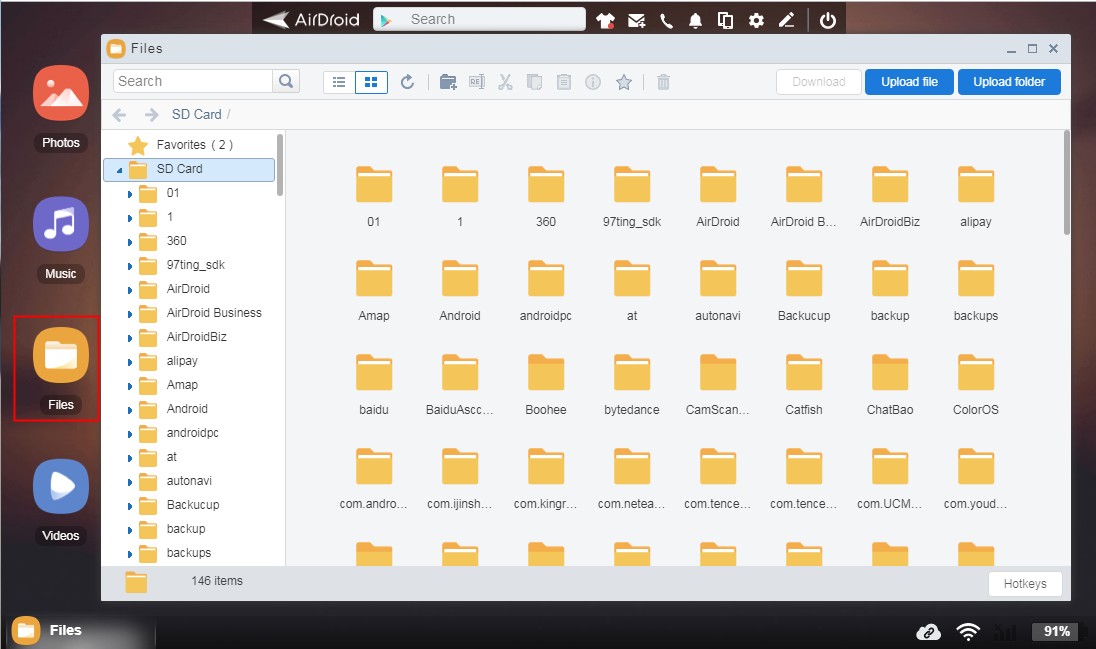 How to download files?
Select one or more files you want to download and click Download on the upper right corner, and the files will be downloaded from the Android devices to the computer (saved in a zipped file if you select more than one file).
How to upload files?
Click Upload on the upper right corner, and choose the files or folders to upload.
Or drag and drop files or folders to Toolbox > File (The files or folders will be saved to SD Card/airdroid/upload by default. You can change the path by clicking the overflow icon next to the path)
How to delete files?
Select one or more files you want to delete and right-click, then click Delete and click OK to confirm. Or click the Trash icon, and click OK to delete the files you selected.
How to search for files?
You can enter a keyword in the upper left corner of Files to search the file.
How to rename a file or folder?
Select the file or folder you want to rename and right-click, click Rename, enter the New name and click OK. Or click the Rename icon to rename your file.
NOTE:
1. Upload folder is only supported by Chrome.
2. Manage files in external SD via AirDroid Personal Web is not supported on Android 4.4+ as Google has restricted the access permission.
However, Android 5.0 restored the functionality of the SD card. With AirDroid Personal v3.1.5, you can manage files in an external SD card with AirDroid Web again!